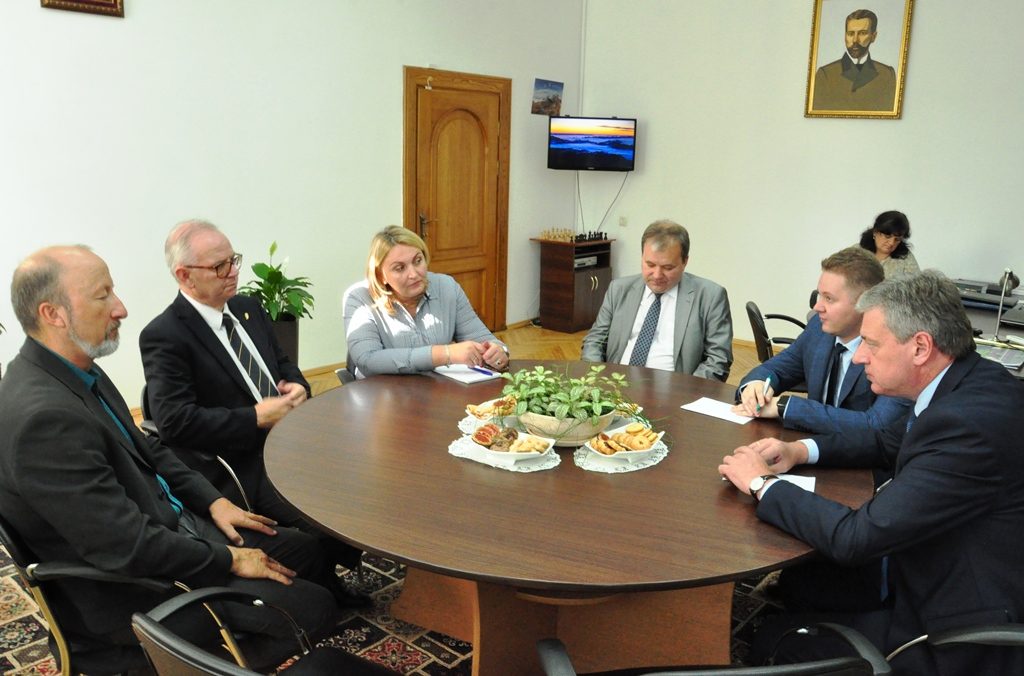 The delegation of the University of Nova Gorica (the Republic of Slovenia), headed by Rector Danilo Zavrtanik, is on a working visit to Vasyl Stefanyk Precarpathian National University. Last year, with the assistance of Ambassador of Ukraine to the Republic of Slovenia, Honorary Doctor of our University, Mykhailo Brodovych, a bilateral agreement was signed on scientific and cultural cooperation between Vasyl Stefanyk Precarpathian University and the University of Nova Gorica. It provided an opportunity to find and implement new interesting ideas which were discussed during the meeting of two rectors.
"Our university is classical. We train specialists in various fields of natural sciences, humanities and economics, and carry out scientific researches. Our university is interested in the partnership cooperation and the development of bilateral international relations", said Igor Tsependa, the rector of Vasyl Stefanyk Precarpathian University, during the conversation with the Slovenian colleague.
During the meeting, the issues of joint projects implementation within the framework of the European Union's programmes Erasmus+ and Horizon 2020, academic exchange of students and scientists, joint grant work were discussed. Particular attention was paid to carrying out joint scientific researches, involving Slovenian scientists in the work at the International Scientific Centre "Observatory".
 "The University of Nova Gorica was founded in 1995 as a school for environmental studies, and in 2006 it became the University of Nova Gorica. Now it consists of 7 faculties, 4 laboratories and 6 research centres. We focus on researches and international cooperation. We are interested in the collaboration with the scientists of Vasyl Stefanyk Precarpathian University and hope that it will be fruitful", said Danilo Zavrtanik, the rector of the University of New Gorica.
After the meeting our guests visited the research laboratories of the Faculty of Physics and Technology and the Faculty of Mathematics and Computer Science.