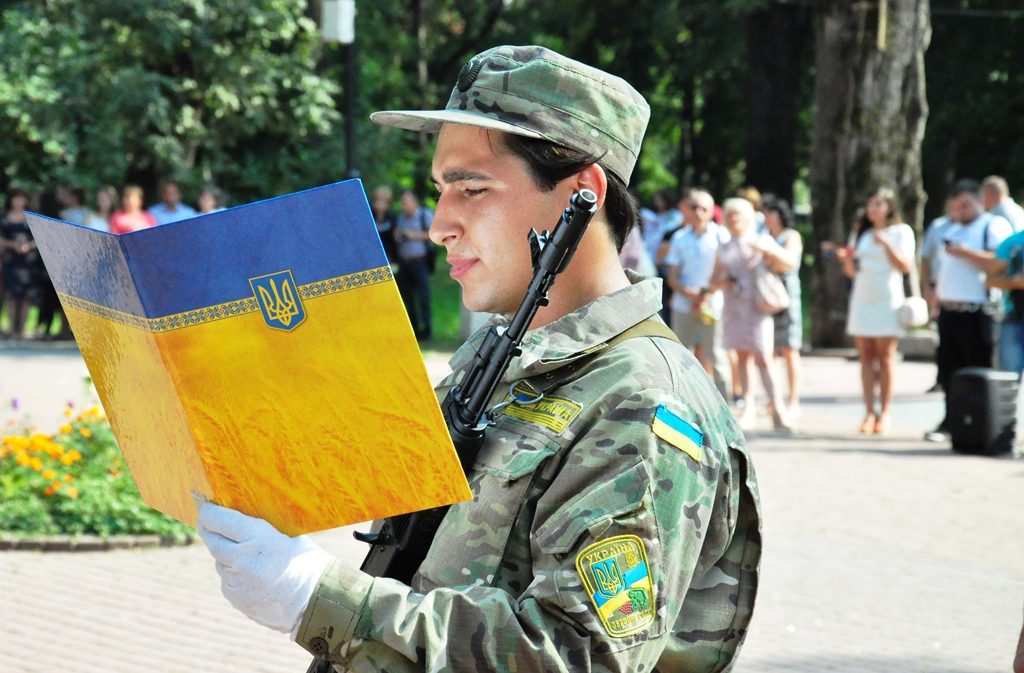 Precarpathian University – one of the best classical universities in Ukraine – today pays great attention to the formation of the defensive elite of our country. As the evidence of this serves the adoption of the Oath of Allegiance to the Ukrainian people by the graduates of the Department of Military Training of the University. It should be noted that it is the University's first issue of reserve officers.
Symbolically, the event was held in the city's memorial square next to the grave of the Precarpathian University student, Hero of the Heavenly Hundred, Hero of Ukraine Roman Huryk, who died in February 2014 during the Revolution of Dignity.
In the festive atmosphere the ritual of taking the Oath took place. 81 students gave a personal promise to serve the Ukrainian people and their native Ukraine in a worthy manner. After taking the Oath by the order of the Minister of Defense of Ukraine, the graduates of our Military Training Department will be awarded the first military title – "the junior lieutenant of the reserve".
"We are proud that you are today the first students of the Precarpathian University who completed their studies at the Department of Military Training. Two years ago you started a difficult but honorable stage in the formation of a defensive elite of the Ukrainian state. You have duly passed this important stage in your life and I do believe that you will continue to be strong in spirit, faithful to your civic duty and oath," greeted the graduates Rector Ihor Tsependa.
The graduates of the Military Training Department were greeted by the relativesof Roman Hutyk. They wished young people to be always aware of their livelihoods and wherever they were to return home alive.
The celebrations were completed with laying flowers to the grave of the University Student, the Hero of Ukraine Roman Huryk.