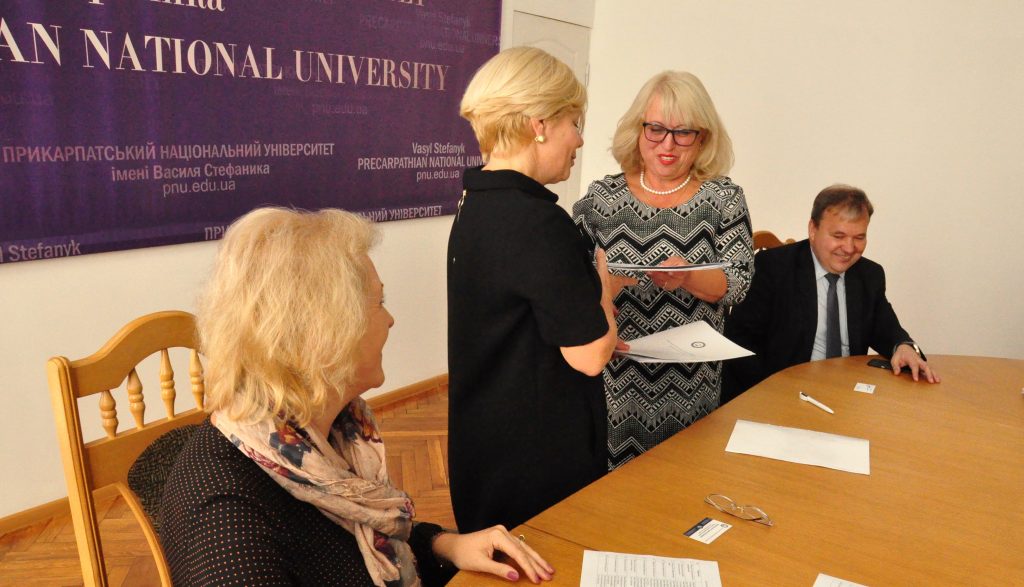 The Chief of Staff of the University, Professor Galyna Mykhailyshyn and Svitlana Mozgova, the chairwoman of the Charity Foundation "Believe in Yourself", solemnly signed an agreement on the implementation of the project to support students from rural areas, on October 17.
The ceremony was also attended by Andriy Zagorodniuk, vice-rector of the University's scientific work, Iryna Ivanchyk, founder of the Charitable Foundation "Belief in Yourself", Tatiana Shvets Deputy Chairman of the Foundation, students and media representatives.
According to the signed agreement, 10 students who were selected on a competitive basis will get a monthly scholarship from the Foundation in the amount of 2000 UAH during 2018-2019. The Charity Foundation will also cover the cost of living at a university dormitory for the other 10 students.
"Our Foundation provides support to students who do well in studies who are proactive, have an active social attitude and they are from rural areas. We also want to support the students of the Precarpathian University, "said Iryna Ivanchyk, founder of the Charity Foundation" Believe in Yourself" at the meeting.
She also said that the Foundation was founded in 2009. Since that time more than 500 students from 63 domestic universities have received financial support from the Foundation.
"This cooperation is extremely important for our students, because for those young people with potential creativity, the university is looking for a variety of support programs. Thanks to our cooperation with the Charitable Foundation "Believe in Yourself", 20 students of the University participated in that competition and as a result received scholarships and financial support from the Foundation," said Galyna Mykhailyshyn, the University's rector.
During the conversation with students, the Foundation officials said that their Charity Foundation also provide funding for the implementation of projects that would unite young scholars around an idea for its successfully implementation.
"I am interested in world history and I would like to study the histories of other countries. To do this, one must take part in various scientific conferences, seminars, work in archives, and so on. And, of course, this requires additional funds. I hope that such support of the Foundation will help me start research and achieve it successfully," shared the plans during a meeting with the Foundation's officials student historian Maria Verkalets.