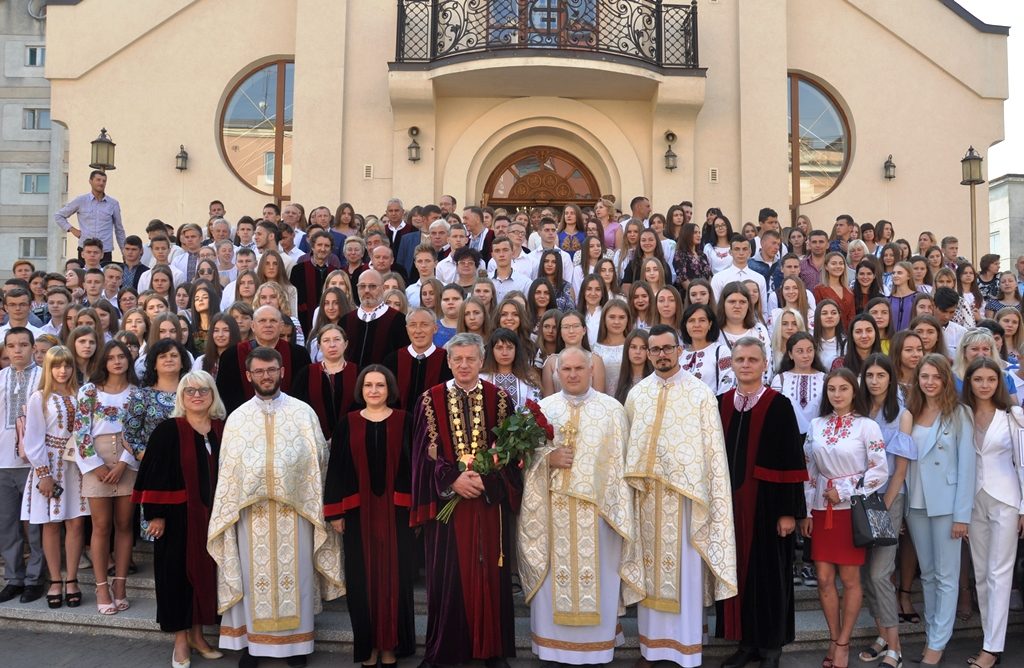 Vasyl Stefanyk Precarpathian  National University traditionally celebrates the Day of Knowledge and the beginning of the new academic year. The festive events began with the Divine Liturgy. The solemn worship service held by Father Mykola Shymanskyi in co-operation with the parish priests was attended by Rector Ihor Tsependa, the representatives of the university administration, professors, freshmen and their parents.
During the Prayer for the University, Father Mykola Shymanskyi shared his blessing with the whole great university family, wished prosperity and development of the University, encouraged to work enthusiastically to gain the best knowledge.
Rector Ihor Tsependa thanked the priests for the spiritual support of the university and for participating in the formation of students' spiritual culture. After the liturgy, the rector handed over to the church library the first volume of the encyclopedic edition, sponsored by a team of scholars of the University.
On the occasion of the holiday, a commemorative plaque to Professor Dmytro Freik, an eminent Ukrainian scientist, Doctor of Chemical Sciences, Honored Scientist of Ukraine, Academician of the Academy of Sciences of the Higher School of Ukraine, Academician of the International Thermoelectric Academy, Honorary Professor (since 2013) was opened. A memorial sign was erected on the facade of the central building in the inner courtyard of the university.
Within the framework of the holiday program – the beginning of the new academic year – a solemn meeting of the Academic Council of the University, the Consecration of Freshmen in Students and the Oath of Allegiance to Ukraine by graduates of the military department of the University will take place at the University.