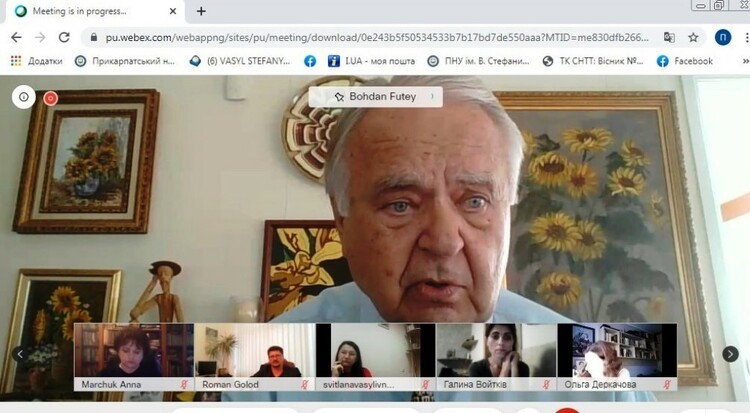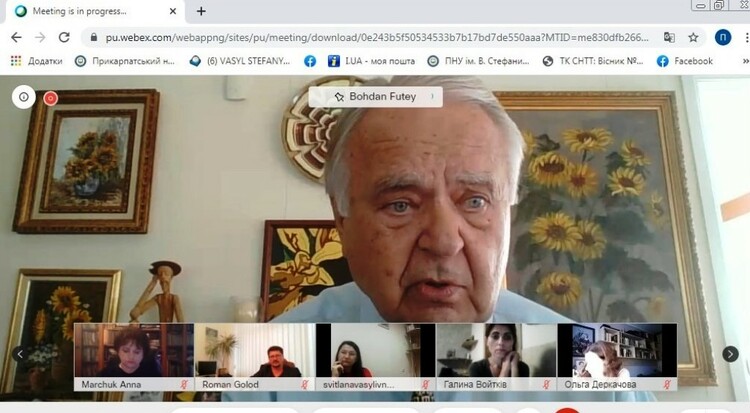 Precarpathian National University has launched the project "Meeting World-Famous Personalities". Their experience can become a motivational factor in our intellectual and moral development.   
The first guest of the University was Bohdan Futey, a Senior Judge of the United States Court of Federal Claims, a prominent lawyer and public figure, Honorary Doctor of Vasyl Stefanyk Precarpathian National University. He was the Chair of the Ukrainian Club, the Ukrainian-American Association and their Federation, the Central Union of Ukrainian Students, a member and Director of the U.S. Census Bureau Regional Office in Cleveland, the Chief Attorney of the Ukrainian National Association, Chair of the United Ukrainian Organization of Greater Cleveland, President of the Ukrainian Congress Committee of America. Now Bohdan Futey, 81, is Judge of the United States Court of Federal Claims, an active public leader and educator.
Rector Igor Tsependa, the moderator of the meeting, stressed the importance of such events since they give us an idea of how to achieve success in life, become internationally famous while remaining Ukrainians. As to his national identity, Bohdan Futey quoted his mother, who used to say that a shirt is closer to the body than a coat, and added that his first shirt was a Ukrainian one.   
More than three hundred people, both students and professors of the University, joined the online meeting.
The guest presented his memoirs "Моя історія: досягнути недосяжну зірку" ("My Story: To Get an Out-of Reach Star").
Bohdan Futey's way to success was amazing. For example, he told the meeting how he had started to work for the American government and became Chairman of the Foreign Claims Settlement Commission of the United States. In 1986, he was nominated by President Ronald Reagan to a seat on the United States Claims Court.
Bohdan Futey has done much for Ukraine, for making it a truly constitutional state. He has published dozens of papers on the issue in American professional journals. His major publication is "Становлення правової держави в Україні' 1991-2001" ("Constitutional State in the Making: Ukraine, 1991–2001"), first published in Kyiv and republished twice. Also, the lawyer gives lectures in many Ukrainian universities.
The meeting was informative as well as interesting. But as a Judge of the United States Court, Bohdan Futey believes it unethical to comment on the home policy of Ukraine.      
At the end of the meeting the guest spoke about his life's credo, "Happy is the person who can return to their home's hearth with a pure heart".
Rector Igor Tsependa thanked Bohdan Futey and invited him to Precarpathian National University.