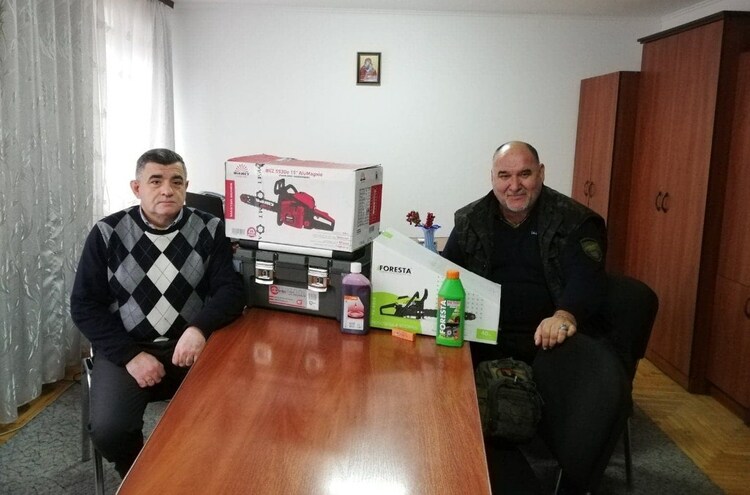 Teachers and students of Kolomyia Educational and Scientific Institute of Precarpathian University traditionally held a charity event "Help the ATO Soldier" during the New Year and Christmas holidays.
Due to quarantine restrictions, the event was held not in its usual format of a fair, but as a voluntary fundraiser. According to the organizers, they managed to collect UAH 6,300. This money was used to purchase construction and plumbing tools (2 chainsaws and tool kits), which were handed over to our ATO defenders at the battlefront.
"The New Year's and Christmas truce allowed us to greet the soldiers right near their place of service. We bring over a piece of our heart. And we take back a piece to those who joined us in collecting this necessary help," said Father Vasyl Dovhaniuk, chaplain of the Kolomyia Eparchy of the UGCC.
The director of the Kolomyia Educational and Scientific Institute Yurii Plekan handed over the goods purchased for the defenders' needs to the chaplain during a regular meeting with Father Vasyl Dovhaniuk, who often visits the locations of our soldiers in the zone of Joint Forces Operation with charitable assistance from ordinary citizens.
"It is very sad that the war continues. But today we are very grateful to our defenders, courageous Ukrainian soldiers! Thank you for the peaceful sky above our heads, thank you for free Ukraine! We consider it our civic duty to help our defenders and actively participate in such charitable actions organized by our Kolomyia Educational and Scientific Institute", said student Roman Ostashchuk, a participant of the charity event.