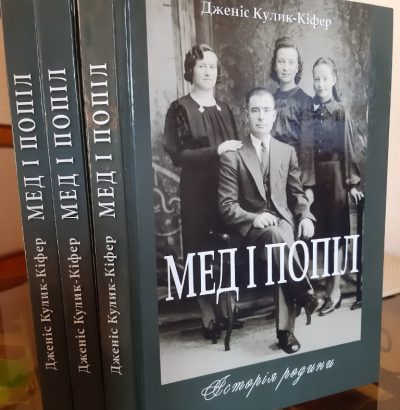 A Ukrainian translation of Janice Kulyk Keefer's memoirs Honey and Ashes: A Story of Family appeared in print at the end of 2021. The book was translated by professor of English Yakiv Bystrov (Vasyl Stefanyk Precarpathian National University) under the auspices of the Paul Celan Translation Program, sponsored by the Institute for Human Sciences, Vienna.
Janice Kulyk Keefer, a Canadian novelist and literary critic, was born in 1952 in Toronto to immigrants parents of Ukrainian background. Through her family memories, supplementing by mediating on maps, history books, and encyclopedias, she always travels back in time and discovers that her ethnicity is an important part of who she is. Kulyk Keefer masterfully describes her personal journey by constructing a bridge of worlds between present day Canada and "Old Place", the village of Staromischyna, now located in Ternopil' region, Ukraine. In her distinctive inimitable literary style, she reconciles her memoirs with crucial events in the history of Ukraine against the backdrop of the formation of Ukrainian statehood after the dissolution of the Austro-Hungarian Empire.
The translation of Kulyk Keefer's Honey and Ashes will provoke the Ukrainian reader's critical thinking around burning ethnical issues of identity, survivability, religion, the history of emigration, and historical memory that have increasingly found renewed relevance in the human sciences of the 21st century.