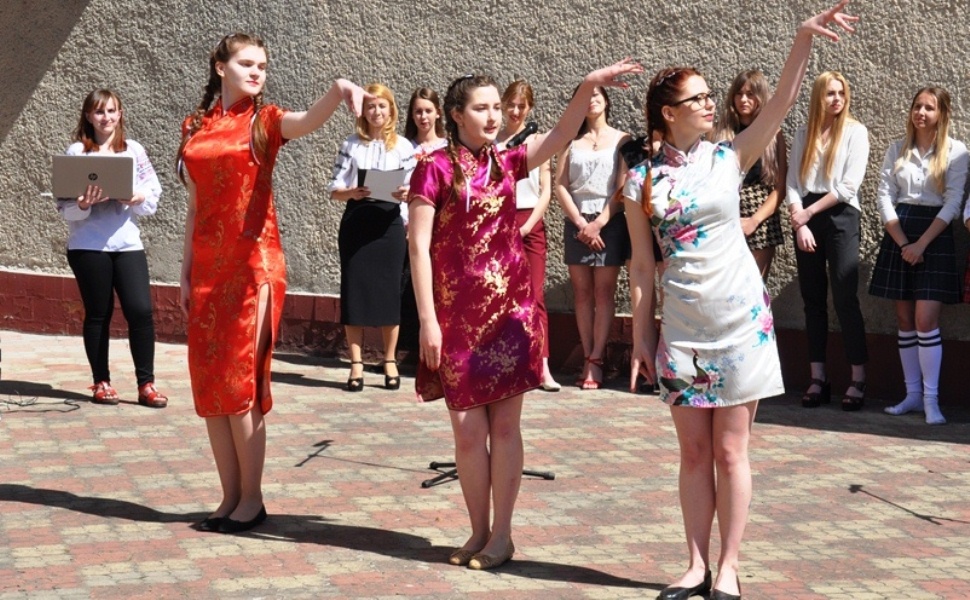 On May 2018, the students from the Foreign Languages Department and the Institute of Philology organized the event "Dances from around the world". The event was dedicated to International Dance Day, which has been celebrated since 1982 to mark the anniversary of the birth of Jean-Georges Noverre, the creator of modern ballet. Over forty students of foreign languages participated in the event. The initiative was also supported by the university teachers (Iryna Iliichuk and Oksana Karbashevska), as well as Gif Feng Guo Xiao, a volunteer teacher of Chinese from China. Oksana Matiushok choreographed  Ukrainian dances; Khrystyna Lesiv, Scottish; and Olha Ostapovych, Chinese.
The students of Polish presented the modern Ukrainian dance called "Motherland"; the students of Germanic philology performed a unique Scottish dance; and the students of Chinese danced "Bamboo under the moonlight" and "Little apple". It was a treat to watch Morris dance, a folk dance which is over 500 years old.
"Dance is one of the finest art forms. Dance is one of the oldest means of communication, and everyone can learn it. By organizing this event, we wanted to encourage young people to learn the history and culture of both Ukraine and other countries, " said Iryna Iliichuk, a teacher of Chinese.
"Today at this event, I enjoyed acting as both a choreographer and performer. I have been practicing dancing for over ten years, and choreographing a dance is by no means less interesting for me. This year I have also choreographed a Chinese dance for Chinese New Year's Day, whereas the English folk dance "Morris" was a real challenge for me because there are over a hundred varieties of it, and it is danced to different music in different parts of England. Though it was not easy to reproduce something that was created a few centuries ago, we were keen to support the initiative of our teacher Oksana Karbashevska to stage this dance. Preparing the event was an enjoyable experience, and it is great that we have succeeded, said Olha Ostapovych, a 4-year student at the Foreign Languages Department.