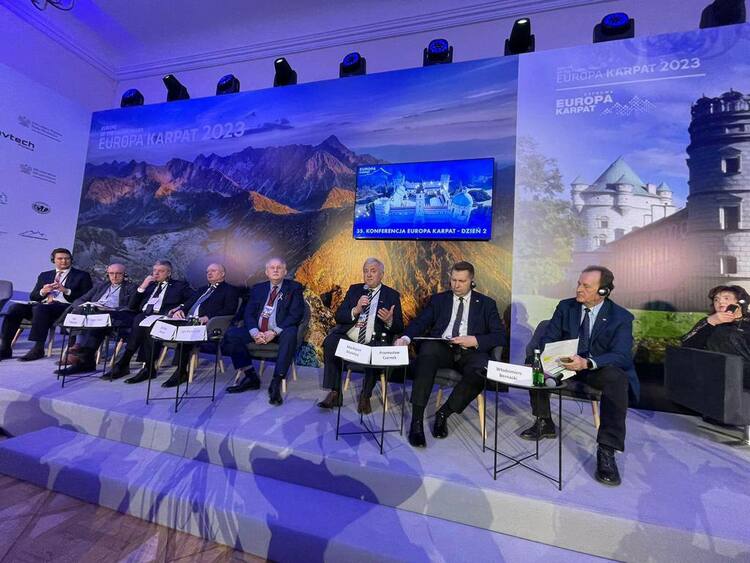 On February 24-26, the rector of Vasyl Stefanyk Precarpathian National University, Igor Tsependa, as a representative of the Precarpathian delegation led by the chairman of Ivano-Frankivsk Regional Council, Oleksandr Sych, along with the first deputy, Vasyl Gladii, Vice-Rector of Precarpathian University, Yaroslav Shynkaruk, participated in the 35th international conference "Europe of the Carpathians" in Krasiczyn (the Republic of Poland).
Leading politicians, journalists, businessmen, and cultural figures gathered in Krasiczyn for three days to discuss the problems of Central Europe and the Carpathian region. They shared their views with other participants on the most important issues, closely related to the current geopolitical and economic situation, and the most important challenges the region is facing. The deputy speaker of the Polish Sejm, Ryszard Terlecki, the deputy speaker of the Senate, Marek Pęka, the head of the Prime Minister's Office, Marek Kuchciński, the Minister of Education, Przemysław Czarnek, the Minister of Climate and Environment, Anna Moskwa, the Minister of European Funds, Grzegorz Puda, the Minister of Infrastructure, Andrzej Adamczyk, the EU Commissioner for Agriculture, Janusz Wojciechowski, participated in the meeting and there were numerous guests from Visegrad Group countries.
On the first day of the conference, the rector of Precarpathian University, Igor Tsependa, together with the director of the East European Studies Center at Warsaw University, Jan Malicki, presented the International Center for student youth of Ukraine and Poland (IMC), which is being built in the heart of the Carpathians in Mykulychyn.
According to Igor Tsependa, the IMC will become a platform for the implementation of joint projects with international partners. In particular, there are plans for a future mountain rehabilitation center for war veterans.
"I am convinced that the International Youth Meeting Center will soon start its activities. We need to talk about the past and the present, overcome stereotypes, get to know ourselves, and build a common future", – emphasized the rector.
On Saturday, Igor Tsependa participated in two panel discussions titled "Education of the Future and International Cooperation"; together with the Minister of Education, Przemysław Czarnek, and colleagues from the Collegium Carpathicum. He was talking about the university work during the war, and the discussions on "Realities and Values of Central Europe".
The focus of all discussions at "Europe of the Carpathians" was understandably the war in Ukraine, concern for Ukrainian refugees, education for the future, the security of Central European countries, the new policy of the Trans-European Transport Network (TEN-T), and the food autonomy of the European Union.
The co-organizers of the conference are the Chancellery of the Sejm and the Chancellery of the Prime Minister in cooperation with the Polish-Hungarian Cooperation Institute, Wacław Felczak, GovTech, the Ministry of Education and Science, the Ministry of Infrastructure, the Carpathian Euroregion, the Przemyśl Cultural Society, the Clubs of Carpathian Europe, the People's University of the Three Seas, and Collegium Carpathicum.