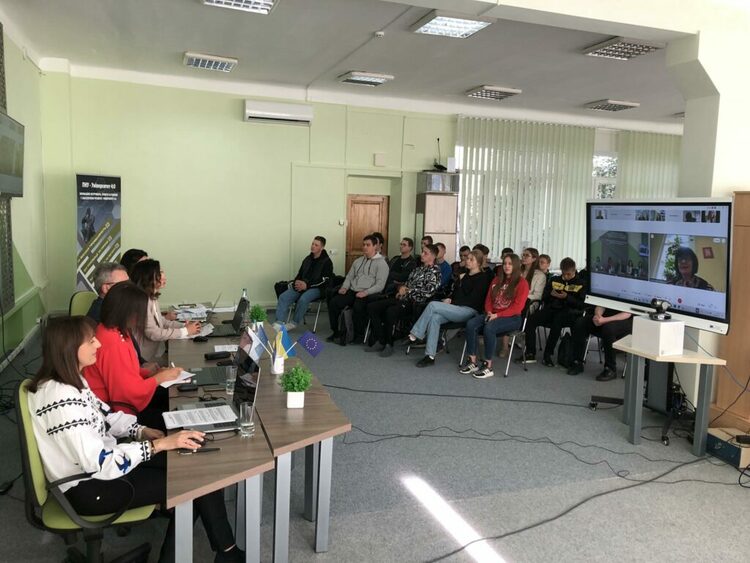 October 5-7, Vasyl Stefanyk Precarpathian National University hosted the First International Multidisciplinary Scientific Conference "Childhood. Literature. Culture. Education", attended by over 100 participants from Ukraine and more than 30 from other European countries. Together with partners from Ukraine, Poland, Slovakia, Croatia, Ireland, and Germany, the team of the Center for Innovative  Educational Technologies "PNU EcoSystem" (Professors: Olena Budnyk and Tetiana Kachak, Associate Professors: Tetyana Blyznyuk, Kateryna Fomin, and Mykhailo Kotyk) has created the effective platform for interdisciplinary dialogue between scholars from ten countries to study the issues of education, culture, literature, philosophy, sociology, and psychology. After all, the war in Ukraine has changed the vectors of research in the international community, and issues related to the attitude toward children, the management of their education, upbringing, and life in modern realities have been actualized. "Moral and ethical norms and values have been transformed, and the culture of childhood is gaining new dimensions… These trends affect the social sciences and humanities, are reflected in education, science, and fiction, and intensify the necessity for their active and multifaceted reflection", Professor Serhiy Sharyn, Vasyl Stefanyk Precarpathian National University's Vice-Rector noted in his opening remarks.
    Professors Irena Polewczyk (the University of Silesia in Katowice), Lidiia Matsevko-Beckerska (Ivan Franko National University of Lviv), Svitlana Bohdan ( Lesya Ukrainka Volyn National University), Vasyl Teremko (Taras Shevchenko Kyiv National University) also addressed the conference participants with welcoming remarks. As well as Anton Lisnik (the Slovak University of Technology in Bratislava), Katarzyna Jakubowska-Krawczyk (the University of Warsaw), Juliane Renninger (Academy of Social Pedagogy in Bamberg), and Uliana Baran (Ukrainian Research Center of Children's and Youth Literature).
During the first plenary session, the panelists discussed the current issues of modern education, multiculturalism, and patriotic education, the challenges of preparing teachers to work with children of war, and the development of children's literature and culture based on the speeches: "The Childhood Paradoxes in Selected Theoretical Contexts as Educational Challenges" by Professor Lech Witkowski (Pomeranian University in Słupsk), "Activities of the Center for Research on Children's Literature and Culture in Croatia and the Bibrich Project" by Professor Smiljana Narančić-Kovac (University of Zagreb), "Face of the child as an icon of the victims of dehumanization and atrocities. At the root of pedagogical concern for the fate of the child and the endangered identity of children in the situation of wartime aggression and confrontation of ethnocultural differences" by Professor Marek Rembierz (the University of Silesia in Katowice), "Children and War: Challenges of Pedagogical Support and Teacher Training" by Professor Olena Budnyk (Vasyl Stefanyk Precarpathian National University), "Intercultural Education and Patriotic Education in Educational Institutions" by Professor Marek Walancik (WSB Academy in Dąbrowa Górnicza), and "Complex Topics in Children's Literature" by Dr. Mateusz Świetlicki (University of Wroclaw). Dr. Lindsay Myers (University of Galway, Ireland) presented the book and project "I Want to Speak Ukrainian".
The pedagogical workshop "How to Create Effective Teams with FRIS" was conducted for the conference participants by Dr. hab. Piotr Mazur, Director of the Center for Modern School Education (Republic of Poland). The team of the PNU EcoSystem Center, based on the already signed cooperation agreement with the Polish Center for Teacher Development SCHOLAR, aims to intensify the exchange of educational innovations.
     The activities of the thematic sessions of the conference – educational and socio-cultural (coordinators: Prof. Olena Budnyk and Associate Professor Kateryna Fomin), philological (literary studies) (coordinator Prof. Tetiana Kachak and Associate Professor Tetiana Blyzniuk), philological linguistics (coordinator Prof. Svitlana Bohdan), media (coordinator Prof. Vasyl Teremko), artistic (coordinator Associate Professor Khrystyna Kazymyriv), as well as the session of Psychology and Inclusive Education (coordinator Professor Svitlana Chupakhina), were distinguished by lively discussions in the context of military realities and the actualization of interdisciplinarity in joint research. The prospects of interdisciplinary dialog between scientists on the topic "Childhood. Literature. Culture. Education" to improve the quality of education of children and youth, their cultural development, and children's literature as a powerful means of education have been discussed. "Let's unite our efforts to solve current scientific issues, generate ideas, analyze problems and results in a holistic way, and present new methodological perspectives in the studies of childhood, education, and literature for children and youth. We are grateful to all the participants for their professional, interesting, and in-depth research, relevant scholarly studies and discourses, and fruitful discussions and debates", – the conference organizers concluded.
A book of abstracts has been published based on the conference outcomes, and the first issue of the scientific periodical "Children's Literature: Interdisciplinary Discourse" is being finalized for publication. The participants will receive certificates for active participation in the conference. For more information on the conference materials, please follow the link: https://ciot.pnu.edu.ua/konferentsii/