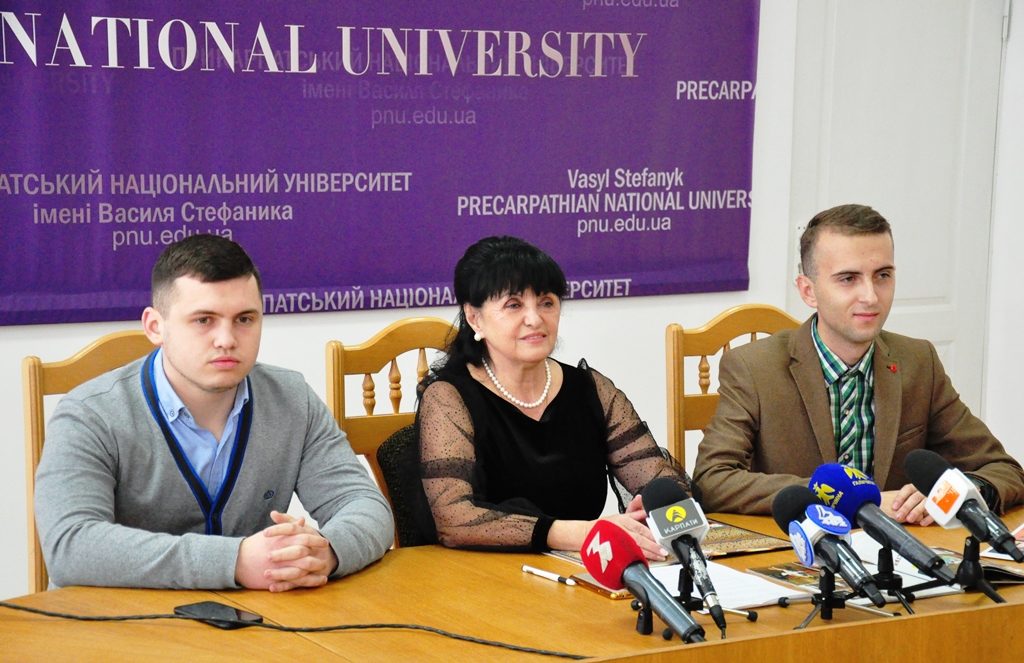 The press conference of the organizers of the XII Galician Ball was held today at the University. It was attended by the director of the ball, the Honored Worker of Culture of Ukraine, deputy dean of the Faculty of Philosophy of the Precarpathian National University Lilia Borisevich, the head of the Student Senate of the University Yuriy Lozyak, the chairman of the Students' and Postgraduate Students' union committee of the University Nazarij Dyuk and the representatives of the media.
"The Precarpathian National University has its long-standing traditions. One of them is the Galician Ball. This event takes place as part of the International Student's Day celebration. This year, the XII Galician Ball will be held on November 12 in the premises of the Ivan Franko Academic Regional Music and Drama Theater. We are trying to attract as many young people as possible. The master classes of dancing will be started from the braille dance, which is the basis of all the balls ", – said  the director of the ball Lilia Borisevich.
The director also noted that the event will be held with the support of Ivano-Frankivsk Regional State Administration, Mayor of Ivano-Frankivsk Ruslana Martsinkiv. Regional TV "Halychyna" will traditionally serve as the informational partner of the "Galician Ball". Musical accompaniment of the holiday will be provided by the municipal variety symphony orchestra under the direction of Valery Chikiris. The hosts will be Tetyana Osadchuk and Taras Vasilyuk. Dance Master – Vasyl Vasyuk.
The world champion in modern choreography Veronika Blinova, students of the Ivano-Frankivsk choreographic school and pupils of Vlad Yama school, winners of international competitions Mykola Sisak and Lydia Vasilkov will present their art to the guests of the "Galician Ball".
The director of the ball Lilia Borisevich also stressed on the importance of the dress code. It is unchanged: for ladies – this is a ball or long evening dress, and for knights – a tailor, a tuxedo or a suit with a tie or a butterfly.
Yuriy Lozyak, the head of the Student Senate of the University, said that they are waiting for the students from the universities of Ivano-Frankivsk and other cities, representatives of NGOs and volunteers.
"If among the guests of the festive event there will be young families with children, then parents will not worry about their child, because the event will involve animators and they will engage with the youngest participants," the head of the student's Senate said.
It is worth noting that within the framework of the International Student's Day in the Precarpathian National University there will also be other traditional events – the CEC for the Rector's Cup and the contest "Miss freshman".