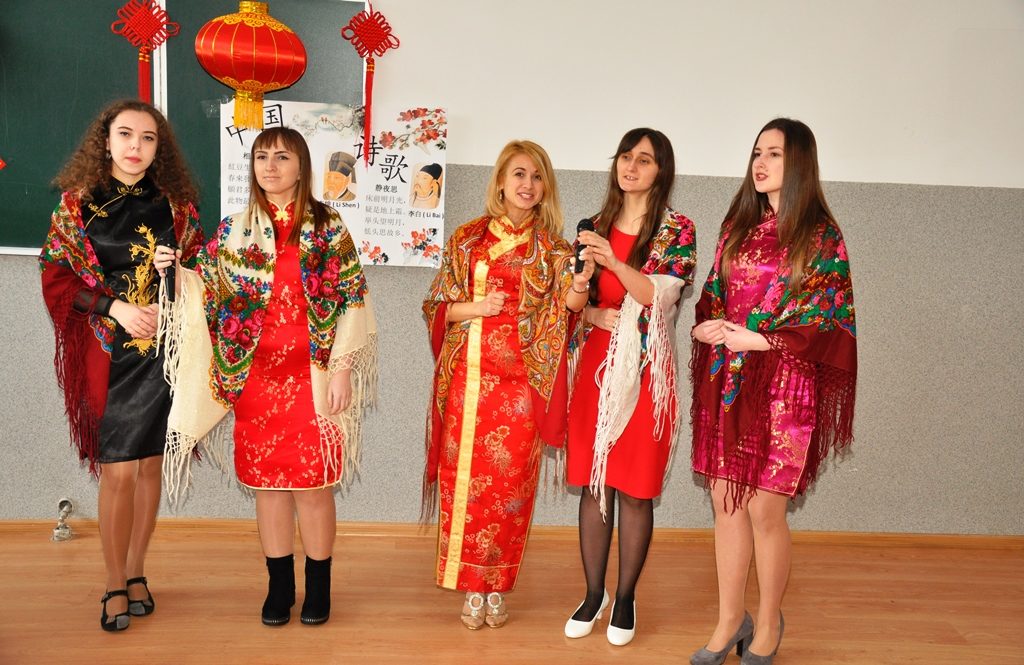 Chinese Philology students, teachers and visitors had 2019 Eastern Calendar New Year celebration. This holiday is also called Spring Festival or Chinese New Year. According to the Celestial Empire's calendar, the year of 2019 starts on February 5 and lasts till January 24, 2020.
The celebration was organized by the Senior Lecturer of General and Germanic Philology Department, Faculty of Philology, Iryna Iliichuk and Chinese language teaching practitioners Sun Hai Lin and Li Wen Jun (China).
"Organizing such events, we try to fill students in with more information about the traditions and culture of the Celestial Empire. When young people learn a foreign language, they should also be acquainted with the traditions and culture of the country of the target language. Our celebration combines two cultures – Ukrainian and Chinese", said Iryna Iliichuk.
The festival opened with the famous Ukrainian song "Shchedryk" ("Carol of the Bells") which was sung by the students in Chinese. It should be mentioned that they do not sing carols in the Celestial Empire.
The Vice-rector for Education Halyna Mykhailyshyn pointed out that celebrating Chinese New Year is a good University tradition, which has been held for three years running. More than seventy students are learning Chinese as a second foreign language now. The Vice-rector also wished everybody a happy New Year.
Iryna Iliichuk told about the traditions of celebrating Chinese New Year and made a presentation "Spring Festival". "Chinese New Year or Spring Festival is the most important traditional holiday in China. It is also called "Nian". On the eve of the New Year, people stick the hieroglyph "Fu" to the door of every flat. The hieroglyph symbolizes happiness, health, long years of wealth and peace. Fireworks and New Year lanterns of different shape and size are part and parcel of Chinese New Year. Among the traditional New Year dishes are fish and Chinese meat dumplings", said Iryna Iliichuk.
Chinese Philology students recited poems and sang songs in Chinese. The teachers-practitioners performed their folk dances and played the Chinese traditional musical instrument – Holusi. The participants of the festival had an opportunity take part in the master classes in paper cutting, thread weaving and Chinese gymnastics.
In conclusion, the students with the teachers recorded a video to wish happy New Year to our Chinese partners and all the citizens of the Celestial Empire.
It is notable that since 2016 Precarpathian University has been a member of the international university community "One Zone – One Way" ("The Great Silk Road"). Besides, there have been established bilateral relations with the Central Academy of Arts (Beijing, China), Tian Shui Classical University, Xi an Transport University. With the support from Сonfucius Institute of Kyiv National Linguistic University, the Centre of Chinese Language and Culture has been set up at Precarpathian University this year.