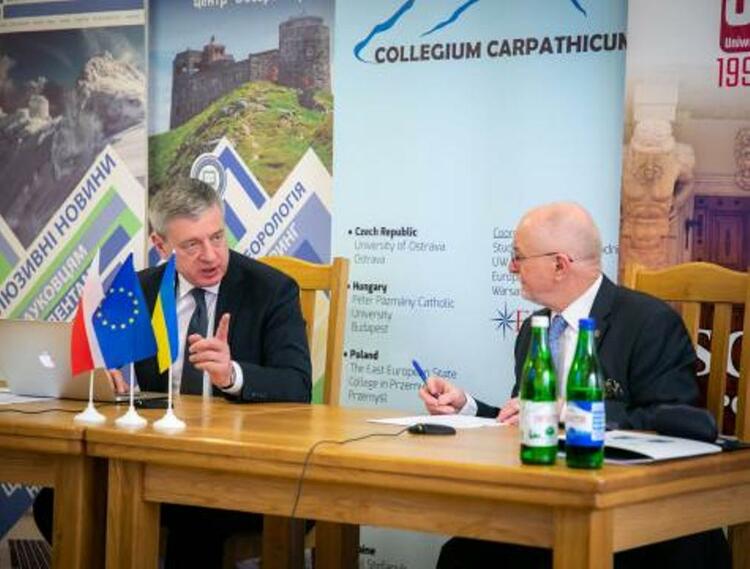 An online meeting of university rectors and Collegium Carpathicum project coordinators has been held. The meeting was opened with the welcoming address from the rector of Precarpathian University, Ihor Tsependa, and director of Eastern European studies at the University of Warsaw, Yan Malitsky.
University rectors and coordinators discussed the implementation of Collegium Carpathicum grants from the International V 4 foundation, climate change and development plan of Collegium Carpathicum for 2021, and also summarized the activities within Collegium Carpathicum during the grant period.
СOLLEGIUM CARPATHICUM includes 7 partnering universities:
– Studium Europy Wschodniej Uniwersytetu Warszawskiego (Warsaw, Poland),
– University of Ostrava (Ostrava, Czechia),
– East European State Higher School in Przemyśl (Przemyśl, Poland),
– Pázmány Péter Catholic University (Budapest, Hungary),
– University of Prešov (Prešov, Slovakia),
– Stefan cel Mare University (Suceava, Romania),
– Precarpathian National Vasyl Stefanyk University (Ivano-Frankivsk)
The Collegium Carpathicum project of international cooperation between universities started in September 2017 within the XVII Economic forum in Krynica.
The symbolic headquarters of Collegium Carpathicum is the observatory on Pip Ivan mountain.