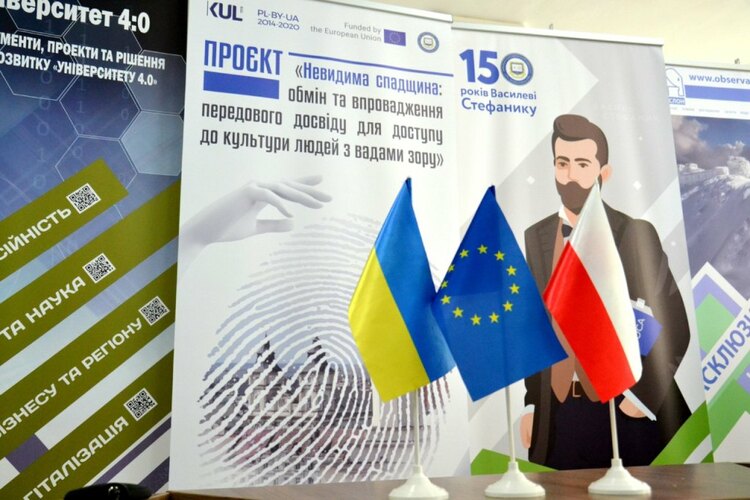 On 4 June, the Center for Innovative Education Technologies  "PNU EcoSystem" at Precarpathian National University presented the International Project "Invisible Heritage: Exchange and Implementation of Good Practice in Access to Culture for Persons with a Visual Impairment".
The project is part of the Poland-Belarus-Ukraine Cross-Border Cooperation Program 2014-2020 and is implemented by Precarpathian National University and the John Paul II Catholic University of Lublin (Katolicki Uniwersytet Lubelski Jana Pawła II). Its  main goal is to increase the accessibility to visual arts to the visually impaired.
"We consider the project special among those implemented at the University because it is aimed at assisting society. More specifically, this project intends to help visually impaired people so that they will be able to fully perceive everything that sighted people do. Our Polish colleagues have interesting accomplishments. I am convinced that the project is a step to making it possible for visually impaired people to feel, through tactile adaptation, all that we can see. This social project is an important step forward for all of us," noted Rector Ihor Tsependa.
The leader of the Ukrainian party to the project Khrystyna Kazymyriv, an associate professor from Precarpathian National University, noted that in Ivano-Frankivsk there are no such projects for the visually impaired. Due to the urgency of the problem, the University's academics joined the project in order to teach the artists, museum staff and guides of Ivano-Frankivsk City to communicate the beauty of the spiritual world to the visually impaired by using tactile adaptation. 
"We were invited to cooperate by our Polish colleagues. We were enthusiastic to join in because in our city there are people that need such assistance. Nowadays it is important and urgent. Though it is a pilot project, it is a chance to raise awareness of such problems, to draw attention to increasing the accessibility of art to visually impaired people. We usually focus on providing household welfare for such people, whereas their spiritual development remains disregarded. Therefore, it must be taken into consideration," said Khrystyna Kazymyriv.
The project presentation program included the first training session for the teaching staff of the Educational-Scientific Institute of Art (Precarpathian National University), the Regional History Museum and the Museum of Art. There are plans to create tactile adaptations of the museums' exhibits and the city's objects.
"I am very glad that today at Precarpathian University we have an opportunity to show our accomplishments because it is a very important aspect of working with visually impaired people. We intend to organize a bigger project of this kind, which will encompass more cities of Ukraine. In addition, it is worth to organize such trainings for teachers who work with visually impaired children in order to show that tactile graphics are interesting and to train teachers for such work," said the leader of the Polish party to the project Dr. Bogusław Marek from the John Paul II Catholic University of Lublin.