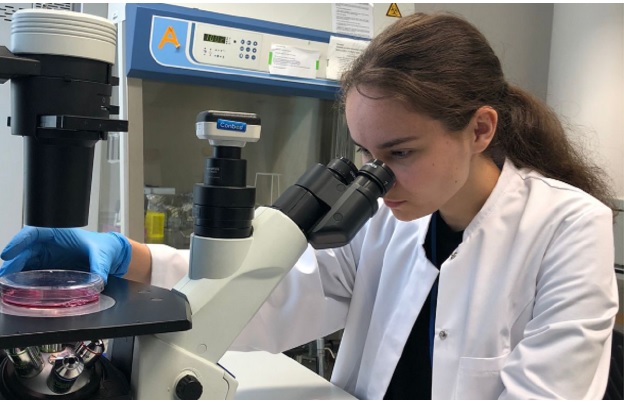 During five months, biochemistry students Natalia Nechytailo underwent the internship at the International Institute of Molecular Mechanisms and Machines (IMoL) of the Polish Academy of Sciences (Warsaw, Poland) in the laboratory Metabolic Quality Control under Dr. Karolina Szczepanowska's mentoring.
The internship became possible due to the EMBO grant program (European Organization of Molecular Biology) Solidarity with Ukraine. As the student puts it, after the beginning of a full-scale invasion of russia, teachers of home university have been prompting students to look for opportunities to study abroad.
The students of Department of Biochemistry and Biotechnology are those who from the first year of studying are taught to acquire social-communicative skills (soft skills). Having good laboratory skills, experience of public speeches and ability to justify her own position, Natalia tried to participate in international mobility. At first the student wanted to go to the USA, but because of the circumstances she came exactly to the laboratory of Warsaw Academy of Sciences.
The laboratory where Natalia worked is engaged in the study of mytohondria, namely the mechanisms of control of OXPHOS, the molecular signals that provide these processes, as well as the diseases (cancer and aging), which are characterized by violation of the process of substitution. In general, mytoproteomics is a rather interesting area of biochemical researches, which in the future can be significant for treatment not only of mytochondrial diseases, but also of many types of cancer and aging.
During the internship, the student has carried out the research, which will be included in her diploma work entitled "Complex I status in breast cancer cell lines". Natalia claims that the research she is doing can give people new medicines from cancer. It is worth mentioning that not at once and not from all its types, but this is another step on the way to its overcoming.