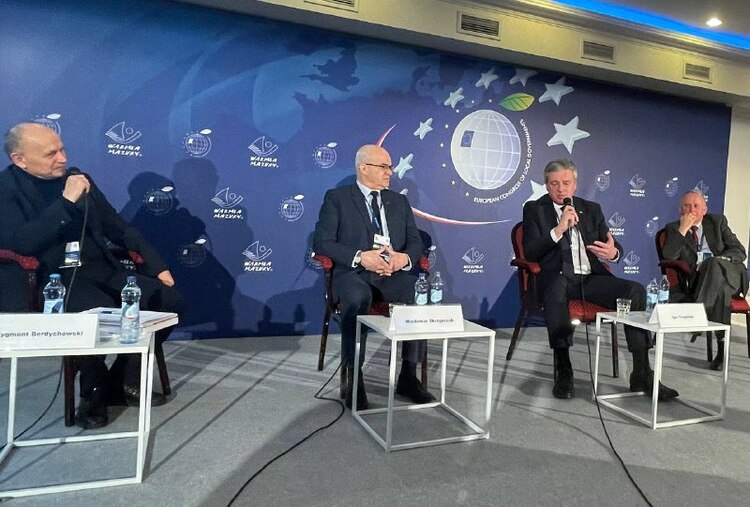 The VIIth European Congress of Local Self-Governments was held on March 6-7 in Mikolajki (Republic of Poland).
Ihor Tsependa, rector of the Vasyl Stefanyk Precarpathian National University, took part in its work. One of the strategic missions of the university is to influence the development of the region, and the European Congress of Local Self-Governments is a well-known platform for the exchange of opinions for leaders of local self-governments, regional elites and representatives of state administration, non-governmental organizations and business.
At this congress Ukraine was represented by people's deputies of Ukraine, heads of local self-government bodies, specialists in economic and political issues, education issues and authoritative experts. Multilateral and direct cooperation of European regions and cities in the socio-economic sphere has reached a level that has a significant impact on the politics and economy of individual countries and of the entire continent as well.
The rector of the Vasyl Stefanyk Precarpathian National University, Ihor Tsependa, took part in the discussion panel "War and what's next". The conversation was moderated by the Chairman of the Economic Forum Program Council, the head of the Institute of East European Studies, Zygmunt Berdykhovskyi. The day before, Ihor Tsependa and Zygmunt Berdykhovskyi presented the prestigious award "Common Cause" in the nomination "People" to the State Secretary of the Ministry of Internal Affairs and Administration, the government commissioner for war refugees from Ukraine, Mr. Pavlo Schafernaker.
To the moderator's question about the possibility of peace negotiations with the Russian aggressor Ihor Tsependa answered: "Negotiations is possible only after the complete withdrawal of Russian troops to the borders of Ukraine of February 2014 and compensation for losses and damages etc".