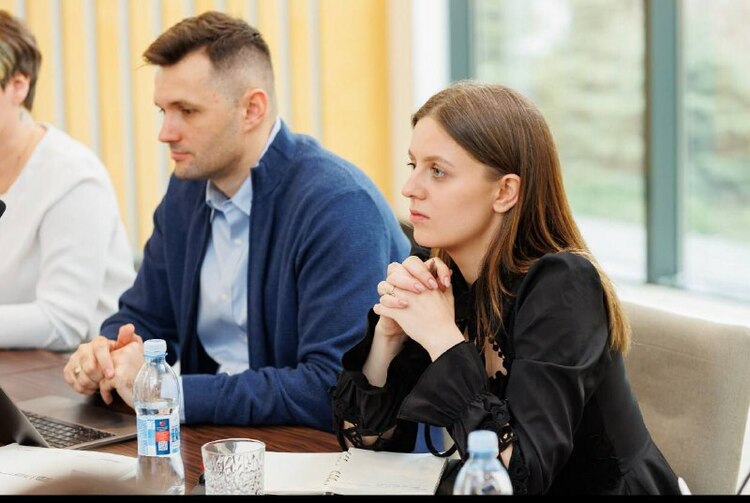 Last week a meeting of the participants of the project initiated by the Association of the Legal Clinics of Ukraine «Anticorruption Compliance in Higher Education: International Experience and National Practice» and supported by the project «Support for the Organisations that are Leaders in Preventing Corruption in Ukraine "InterAction''» took place in Kyiv. Vasyl Stefanyk Precarpathian National University was represented by Nataliia Koturbash.
PNU joined other universities in their efforts to work out an effective model of anticorruption compliance (correspondence to any inner and outer demands and norms) and the ways of involving the students in preventing corruption at the higher educational establishments.
ALCU initiative to gather together the stakeholders interested in active resistance to corruption and in the implementation of the principles of academic integrity was supported by state and public. Among those who joined the discussion of this problem there were representatives of the relevant committee of the Verkhovna Rada of Ukraine (Yulia Hryshyna), of the Ministry of Science and Education (Oleksandr Pyzhov), of the Ministry of Communities, Territories and Infrastructure (Serhiy Derkach), of the National Quality Assurance Agency for Higher Education (Oleksandr Himenko), of the Ukrainian National Agency of Corruption Prevention (Iryna Chahovets, Viktoria Orysiuk), of the National Anticorruption Bureau of Ukraine, education ombudsman (Serhiy Horbachov), experts of the project «Support for the Organisations that are Leaders in Preventing Corruption in Ukraine "InterAction''» (Yevhen Bilyk, Halyna Kohan), representatives of the PO «Institution Development Fund»(Oksana Bronevytska, Anna Fedorenko), PO «Progresylni», of the Ukrainian Students Association (Nataliia Koturbash), of the Scientific Research Centre «ACREC», of the analytical centre «Osvitanalitica», network UNIC, IT company «Ethicontrol» (Oleh Hordienko).
Nataliia Koturbash, who represented PNU, pointed out the necessity of cultivating rejection of corruption and of informing the students about the measures they should take in case they confront corruption or become the ones who provoke corruption in the sphere of education.