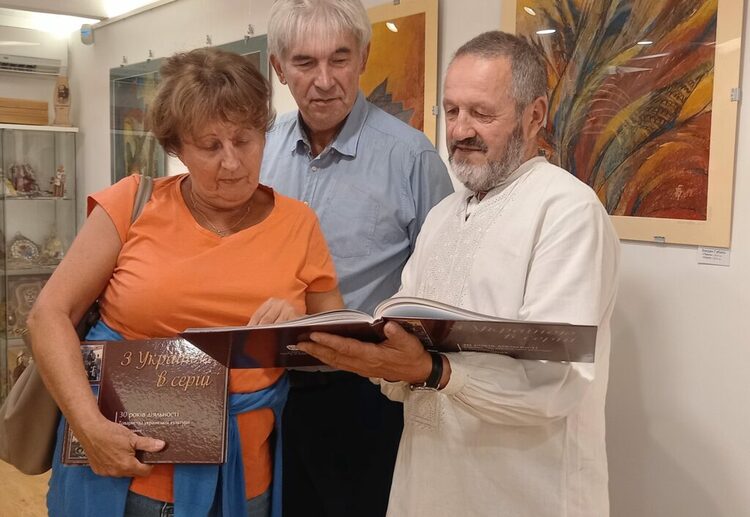 On September 16, 2023, in Budapest, at the exhibition hall of the Centre of Ukrainian Culture and Documentation in Hungary, there was held a ceremonial opening of the exhibition of works of Bohdan Hubal, Honoured Artist of Ukraine, Professor of Design and Theory of Art Department (Institute of Arts, Vasyl Stefanyk Precarpathian National University).
There have been exhibited 24 abstract compositions, performed in the author's pastel technique. Nadiia Babiy, PhD in History of Art, Associate Professor, made a speech about the artist's creative path. She said, "Pastel is one of the techniques chosen by Bohdan Hubal'. The artist experiments a lot with the colour scheme of the background. The dry material – chalk – changes, glistens, creates an impression of depth or even breaks through space. However, more important than the artist's technique is the spirit that fills his works."
Among the prominent guests present at the event were Oleksandr Zabolotnyi, the Head of the Consular Department of the Embassy of Ukraine in Hungary; Iaroslava Hortiani, the Head of the Society of Ukrainian Culture in Hungary, member of the Presidium of the World Congress of Ukrainians; Iaroslava Sabo, the Head of the State Self-Government of the Ukrainians of Hungary; Ihor Shypailo, the director of the Centre of Ukrainian Culture and Documentation in Hungary.
The Ukrainian community of Hungary complemented the exhibition with the music composition by Denys Sichynski (lyrics by M. Havalevych) "Babyne Lito" ("Indian Summer"), which was performed by the graduates of the Institute of Arts: the singer Victoriia Voronina and the pianist Natalka Hereta.