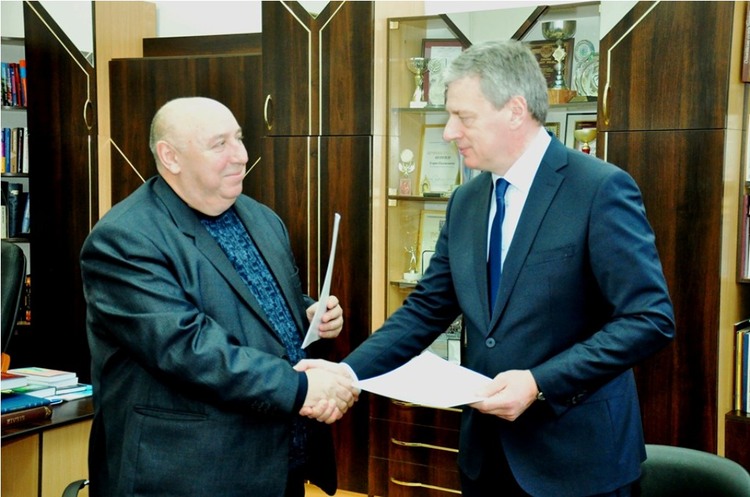 Precarpathian National University has signed a cooperation agreement with educational institutions located in mountain areas, namely Huta Educational Center in Bohorodchany District and Biloberizzia United Territorial Community in Verkhovyna District, which comprises seven educational institutions (Biliberizzia Lyceum, Usteriky Gymanasium, Barvinkiv Primary School, Tsiviv Primary School, Khorotsiv Primary School, Biloberizzia Nursery School called "Teremok", Usterikiv Nursery School called "Vyshyvanka").
The cooperation is aimed at raising the standards of teaching and providing quality teacher training. This was discussed at a meeting between the University President Dr. Ihor Tsependa and director of Huta Educational Center Volodymyr Heorhei.
"The University sees it as its mission to direct its educational and scientific potential at developing our region. We do much to achieve it. For instance, a part of implementing the 2020-2022 State Programme on boosting the Ukrainian
Carpathians and "The New Ukrainian School Reform", it is essential that we should direct our efforts at developing education in the Precarpathian area, " said Dr.Tsependa.
"The digital and media literacy of a teacher" project is participated by over forty teachers from Biloberizzia United Territorial Community. They will be trained by the University teaching staff, namely Olena Budnyk, Doctor of Pedagogy, director of the Center for Innovative Educational Technologies (PNU-EcoSystem), a New Ukrainian School trainer; Inna Chervinska, Candidate of Pedagogy, associate professor; Tetiana Blyzniuk, Candidate of Pedagogy, associate professor; Mykhailo Kotyk, software engineer at the Center for Innovative Educational Technologies (PNU-EcoSystem), Candidate of Technical Science, senior lecturer at the Department of Computer Engineering and Electronics, expert in robotics and 3D modeling software.
The project participants have the opportunity to communicate via the pu.webex.com platform of AHENTY ZMIN, the University's project center. Addressing the teachers at an online session, Dr.Tsependa emphasized the importance of uniting the scientific and academic potential of the region in order to boost motivation for learning and teaching.