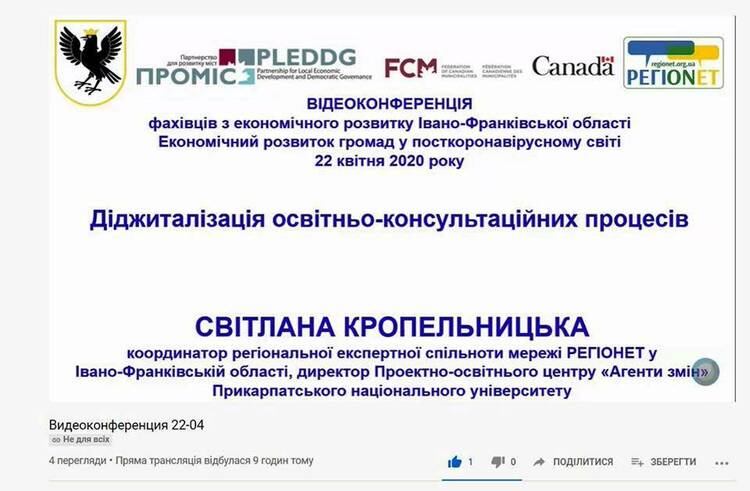 Educational project-management center The Agents of Changes of Vasyl Stefanyk Precarpathian National University together with the local specialists of Ivano-Frankivsk region took part in a cloud conference "The Economical Development of Unities in postcoronovirus world". It was held by the representatives of the project of the international technical support "Urban Development Partnership" (PROMISE) in collaboration with the network REGIONALNET. 
On agenda, there are the following up-to-date issues and aspects for discussion:
State regional policy in 2020: theory, strategies and practice.
Short-term and long-term strategies to support and preserve business in emergency cases;
·The role of the establishments in supporting enterprises to overcome economic crisis;
·The strategies of Ivano-Frankivsk region development by 2027: the areas for further investments.
Entrepreneurship after the lockdown ·Local online economical development in the frame of the project PROMISE.
The director of The Agents of Changes Svitlana Kropelnytska,Vasyl Stefanyk Precarpathian National University, presented the topic which is considered to be problematic and current "Digitalization of educational-consulting processes"
The Agents of Changes express their deep gratitude to the coordinator of the Ukrainanwide Netwok of Specialists and Practitioners in the Regional and Local Development REGIONALNET Oleksandr Dudka.
For more detailed information visit: https://youtu.be/vigVht2cl04 (The presentation starts from  1 to 2).