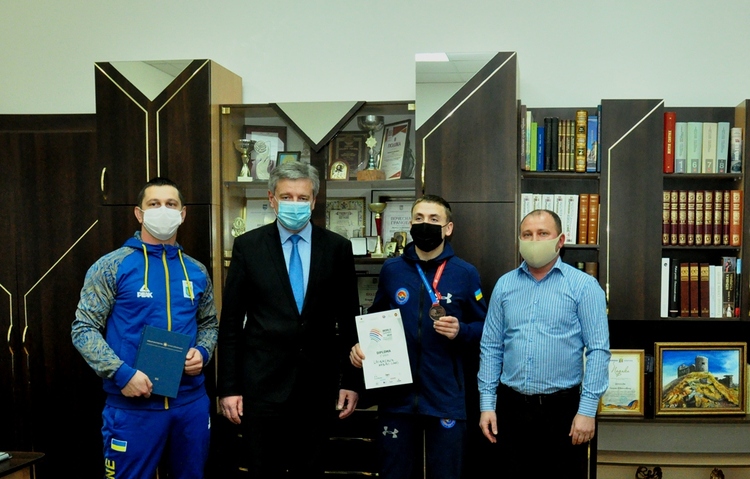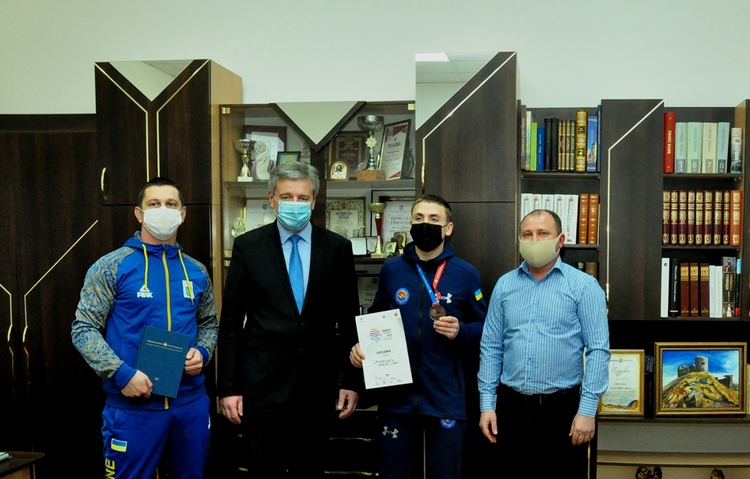 Ihor Tsependa, the President of the University congratulated the student-champion Andrii Laishchuk. At the Sambo world championship which was recently held in Serbia, Andrii won a bronze medal in 57 kg weight class adults championship and fulfilled the international class standard of Master of Sports of Ukraine.
"I am convinced that the victory in the international competition is very important both for the University and Ukraine. We are happy about this success. On the other hand, it is the proof of the University's idea of cooperation with Precarpathian famous sport schools, which continue their work at University. Their pupils and instructors are its bright illustration. The example of Nadvirna Sambo school confirms the efficiency of theis cooperation", said the President.
During the meeting with the student-champion and his instructors Andrii Mykytyn, the senior instructor of the Youth National Sambo Team of Ukraine, and Serhii Kuryliuk, instructor-psychologist, Associate Professor of the Physical Education and Sport Theory and Methodology Department, Faculty of Physical Education and Sport, the University President discussed the aspects of University's further support of students-athlets and the prospects for the development of Sambo in Precarpathian University.
The University President Ihor Tsependa thanked the champion and his instructors for their persistent work and wished them further high achievements in sport.
"I see that Andrii is a promising athlete, that his persistence is going to scale the summits in sport. I am sure that we will enjoys his great achievements in the future. To become a world prize-winner among adults at such a young age, at 20, is a praiseworthy result," said the instructor Andrii Mykytyn. He also thanked the University President for support and promotion of preparing the athlete for the contest.
"It's not my first competition. I have covered a long way trying to achieve such a high result. Although it was difficult to participate in the championship for adults, I managed to defeat my opponent, a French Sambo fighter, 2 minutes before the end of the battle," said Andrii Laishchuk during the meeting.
While speaking to the University President, Andrii also admitted that he is dreaming of becoming a world champion and will do his best to put his dream into practice.