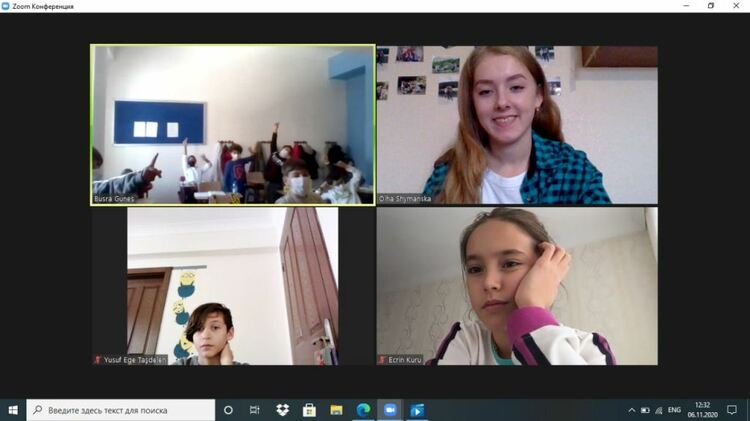 Within the framework of the cooperation agreement between Vasyl Stefanyk Precarpathian National University and Beysukent College (Ankara, Turkey), the 45 best students of the faculty performed individual tasks during the linguistic practicum in the form of online lessons and English discussion clubs with students from one of the best private schools in the country. Gaining an unforgettable international pedagogical experience, our students proved to be smart, creative and responsible teachers who actively cooperated with students of Grades 1-10 during November 2020. Students had the opportunity to successfully apply in practice the acquired cultural knowledge about the school education system in Turkey.
"During this short time, we were able to conduct about 10 lessons and get acquainted with the peculiarities of Turkish education and mentality of the nation. Despite some religious and cultural differences between Ukraine and Turkey, we quickly managed to find a common language and establish an effective learning process with students," says the third-year student Iryna Sukharebska.
The teachers of the college are very friendly and always ready to help during the lesson, because different ages and levels of English could make it difficult to communicate with students. Anastasia Tsikhovska notes that she was most impressed by students' motivation and performance. "Unlike Ukrainian schoolchildren, in Turkey boys are more active in lessons and always try to make compliments, but girls are more modest, more diligent and ready to support the conversation if the boys do not speak."
For students who dream of a teaching profession, this experience is truly invaluable, as everyone must carefully approach the preparation of lessons, presentations and think through every detail, focusing on the age, preferences and level of knowledge of students in each class.
"Interactive lessons are really a challenge for any teacher, but nothing compares to the sincere smiles and emotions you get from each lesson. I believe that interactive classes are the best way to gain the necessary pedagogical experience and always be "on good the same page with students, "- shares the impressions Anna Gavrilishyn.
All classes are currently held online, which has been a real challenge, but it does not prevent us from establishing close ties with students and their teachers. Marta Boyanivska notes: "We have to take into account technical aspects, master a lot of things related to computer technology. Of course, it is much easier to work in person, because there is direct interaction with students, some eye contact, etc., but we quickly got used to the conditions of distance learning and strive to improve the quality of our lessons. "
Once again we prove that the Faculty of Foreign Languages ​​is constantly looking for unique opportunities for cooperation of its students with foreign educational institutions. All students are extremely grateful for the opportunity to improve their language level and gain invaluable pedagogical experience, which will undoubtedly be useful in the future.