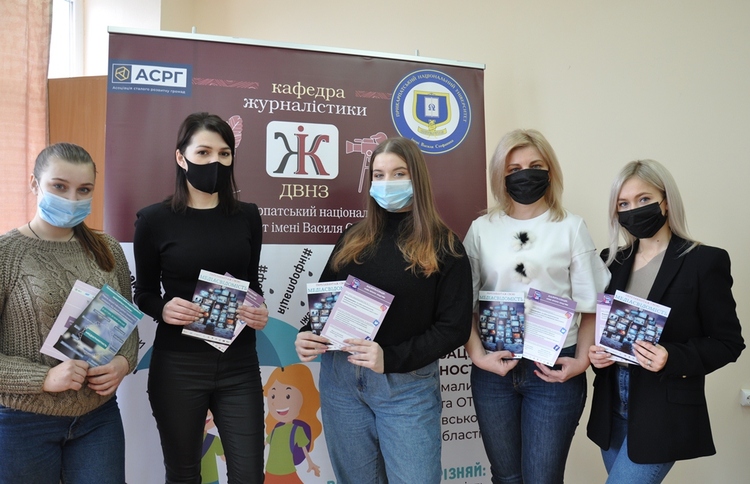 On Fabruary 10 the Department of Journalism organized the press-conference devoted to the discussion of results of international grant on media literacy «Learn and Differentiate: Media Literacy». It's worth mentioning that the Department of Journalism of the Faculty of Philology in Vasyl Stefanyk Precarpathian National University took part in the competitive selection and got the grant support for the realization of the earlier mentioned project.
The participants of the press-conference were the project coordinators – candidate of sciences in social communications and senior lecturer of the Department of Journalism Halyna Prystai, candidate of political sciences and assistant professor of the Department of Journalism Nataliia Marchuk and students-participants of the project.
The project lasted for several months. There were held 23 training sessions which engaged more than five thousand participants. Mostly they were pupils from regional secondary schools, people who live in villages and small towns of our region.
"Project's experts explained the audience members how to work with different types of information. It was very important for us to make our listeners media literate. The project is officially coming to its end but we've got many invitations from educational institutions for holding such thematically oriented trainings", – said Halyna Prystai, the coordinator of the project. It was also mentioned that training sessions on media literacy were held in 8 regions on such on-line platforms as Zoom and Google Meet.
"The experience of holding such a project proved that trainings on media literacy became rather popular in schools. Our audience members got basic knowledge in the sphere of mass media, they got acquainted with widely spread types of manipulation and basic instruments for developing critical thinking and checking the information," – said Nataliia Marchuk, the coordinator of the project.
It is important to mention that the project «Learn and Differentiate: Media Literacy» is directed by the International Research & Exchanges Board (IREX) together with the USA and Great Britain embassies, Ministry of education and science of  Ukraine and Academy of Ukrainian Press. It aims at forming and sharing printed materials, shooting videos and organizing trainings for popularization of media literacy in villages, small towns and regional areas of Ivano-Frankivsk region.