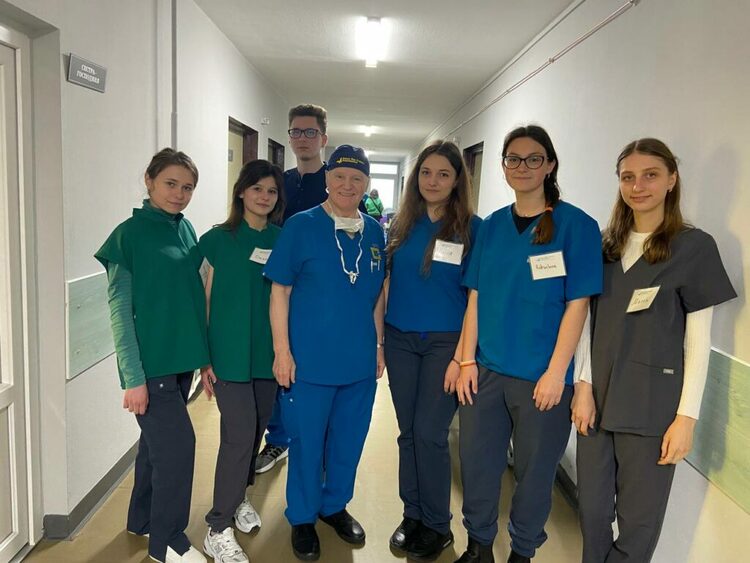 Students and a teacher of the Department of English Philology of the Faculty of Foreign Languages of Vasyl Stefanyk Precarpathian National University took part in an international medical mission organised by "Face the Future", "Ukrainian Association of Endoscopic Head and Neck Surgery" and the charitable organisation "Razom for Ukraine".
A team of American and Canadian surgeons and nurses spent six days at the Ivano-Frankivsk Regional Clinical Hospital. During this time, they conducted a series of lectures for Ukrainian colleagues and carried out more than 30 complex surgeries, helping Ukrainian civilians and military personnel, who suffered because of the war.
During the entire time of the missions stay in Ivano-Frankivsk Regional Clinical Hospital, students and a teacher of the department accompanied the doctors and nurses and provided interpretation of all the events, namely:
educational lectures, patient examinations, press conferences, interviews for the media and during the operations themselves.
Students had the opportunity to apply the skills of consecutive and simultaneous interpreting acquired during the course "Conference interpreting and computer-assisted translation".
The role of translators was appreciated by the organisers of the mission: Peter A. Adamson, President and Founder of "Face the Future Foundation", Head of the medical mission in Ivano-Frankivsk: "When we first decided that we would come to Ivano-Frankivsk with this surgical mission, one of the things that I said to everyone who was planning the mission was that it was critical that we have good interpretation. So much of what we do is only possible because we can exchange information: we can teach each other, we can learn from each other, and, in fact, we can just enjoy each other's friendship."
Anthony E. Brisset, Board Member of "Face the Future Foundation", Director of the mission: "Interpretation is a critical aspect of our success in the missions here. There's a level of communication that needs to occur as the
result of the complexity of these cases. We need to be able to communicate effectively with patients, our doctors, the  other nursing staff and the staff of the mission itself. And so having interpreters here allows us to have a very efficient and streamline method of communication. The interpreters have been absolutely fantastic."
Nataliia Komashko, Head of "Ukrainian Association of Endoscopic Head and Neck Surgery": "I want to thank all the interpreters who have worked here. I want to thank the administration of the university. We are pleased to invite you [again], because the new mission is being planned for October. I want to note the high level of the student's knowledge. Everything was fine and on a very high level."
The students and the teacher, in their turn, also commented on their participation: "It was an honour for the whole team to take part in such a significant event. Despite the fact that we had to work in quite extreme conditions, I think that we coped with the task." – said Valeriy Hanzin, first year MA student.