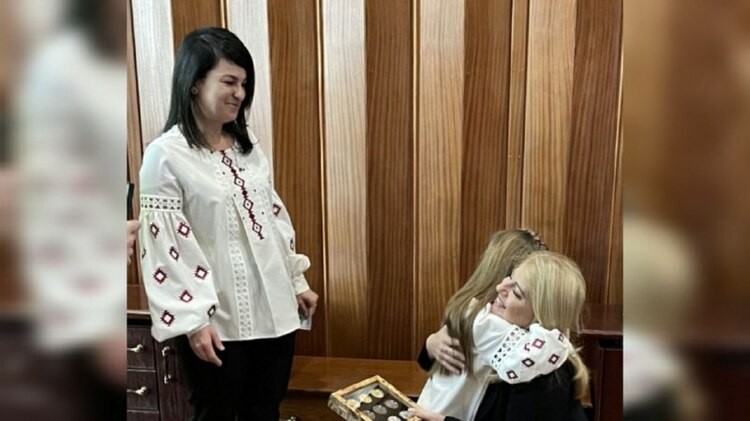 In Kyiv, Associate Professor of the Department of Geography and Natural Science of the Precarpathian National University Iryna Zakutynska met with the President of the Slovak Republic Zuzanna Chaputova to thank Slovakia for helping Ukraine, on behalf of the Ukrainians, in particular, the Berdychiv Charitable Foundation "Oberig – 26", the public organization "My Family" and the Ukrainian Institute in Bratislava.
The meeting took place at the Embassy of the Slovak Republic during the President's visit to Ukraine. Iryna Zakutynska brought her six-year-old daughter Solomiyka to this landmark event.
"I am proud and happy for Slovaks who have such a head of state! Mrs. Chaputova is really a wise politician, a statesman of the highest level. And at the same time, she remains a person with a delicate soul, a warm, sincere, kind woman, whose name is Mom. Together with my daughter Solomiyka, I, on behalf of the Ukrainians, thanked the Slovaks for their good neighborliness, for their substantial support in the armed struggle for our freedom and theirs, in establishing peace in Europe. Such a goal is achievable only if the Armed Forces of Ukraine achieve Victory on the battlefield. Fortunately for us, President Zuzanna Chaputova not only understands this, but is convinced of it," said Iryna Zakutynska after the event at the Embassy of Slovakia.
With words of thanks and best wishes, a unique author's collection of silver Ukrainian-Slovak coins was handed over to the President. Inscribed in the metal: "Victory is won by the unconquered! Peace is protected by those who care!". Glory to Ukraine! Glory to heroes! Long live and prosper Slovakia!