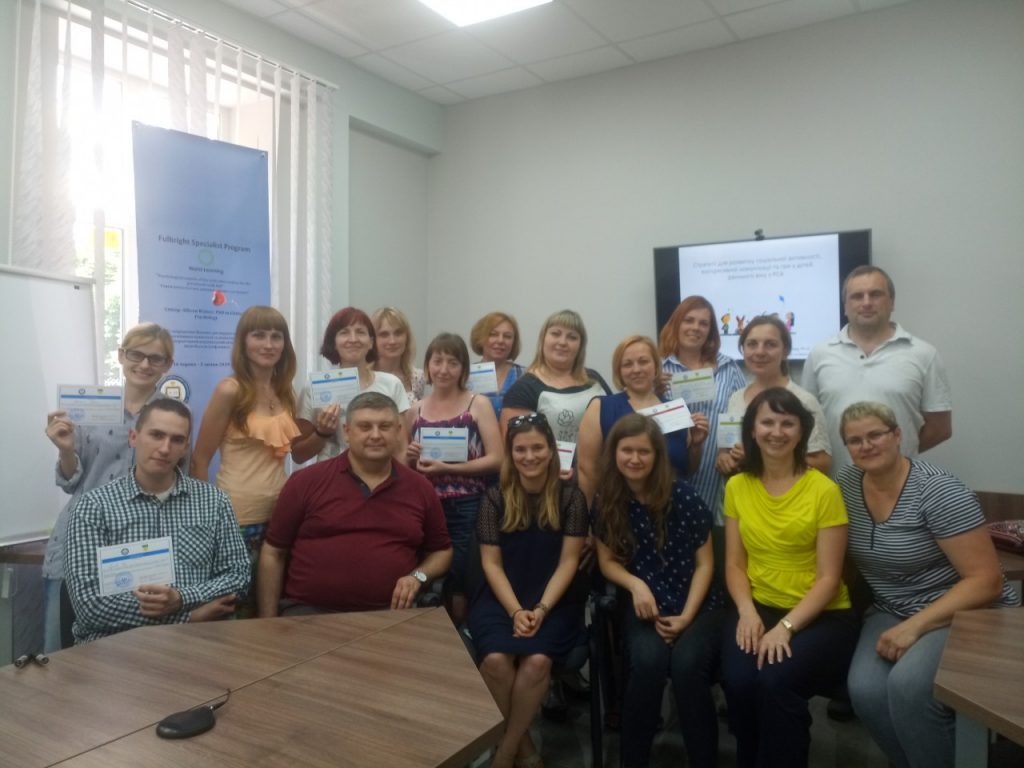 From June 16 to July 3, 2019 Vasyl Stefanyk Precarpathian National University hosted a training of a well-known lecturer, a scientist on autism psychology problems Dr. Allison Wainer (PhD in Clinical Psychology, Rush University Medical School, Department of Psychiatry). Program of the visit was aimed at enhancing educational and scientific collaboration. At the initiative of the Research Center for Cognitive Psychology and Psychotherapy of the Scientific Park "Precarpathian University" and a grant from the US Department of State under the Fulbright Specialist Program, the visit of such a specialist facilitate and develop collaborative research and educational initiatives. 
In particular, specialists and students from the Precarpathian, Transcarpathian, Kherson, Bukovyna and Lviv regions were involved in the exchange of experience on the psychological aspects of early intervention for preschool children with autism spectrum disorders. Considerable attention was paid not only to the study of the theoretical aspects of the modern scientific achievements of mental health, but also to the solution of clinical tasks to promote the early social development of a child with autism spectrum disorders. Meetings with the leading scientists of the Department of Social Psychology and Developmental Psychology, as well as the Department of Professional Education and Innovative Technologies, stakeholders from NGOs (such as NGO "Center for Mental Health and Rehabilitation – SOFIA") and the leadership and personnel of the Ivano-Frankivsk Oblast psychoneurological hospital # 3 were very useful and very productive. As a result, the possibilities of adaptation of the protocol and further research on the provision of early psychological care for children with signs of autism and making appropriate changes to educational programs for psychologists and special educators have been discussed.
Thus, cooperation within the framework of the Fulbright Specialist Program contributed to the development and promotion of long-term academic and professional connections between research, public and educational institutions of the United States and Ukraine. Participation in the program opens up many prospects for Ukrainian-American student research, establishing personal and professional contacts in order to broaden their understanding of gaining professional competencies.