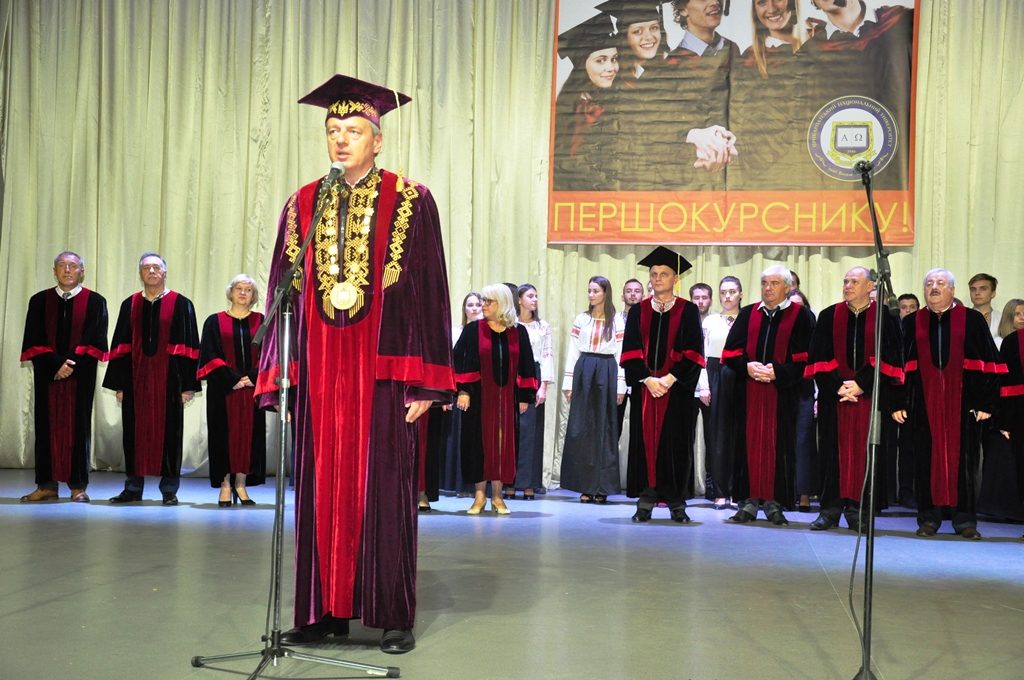 A festive meeting of the Academic Council of Vasyl Stefanyk Precarpathian National University became the main event at the beginning of the new academic year in the university. The Rector of the university, Professor Ihor Tsependa, the teaching stuff, the students and workers, the freshmen and their parents took part in the festive academia. Denys Shmyhal, the Head of Ivano-Frankivsk Regional Administration, Ruslan Martsynkiv, the Mayor of Ivano-Frankivsk, and Roman Zvarych, the deputy head of University Supervisory Board, were special guests at the meeting.
The Rector opened the meeting with his greeting speech. Ihor Tsependa welcomed the freshmen who had chosen Vasyl Stefanyk Precarpathian National University as their Alma Mater.
"For us it is a new academic year, and for you, dear freshmen, it is a new start in your life. You have proved to your parents, friends and first of all to yourselves that due to hard work and profound knowledge it is possible to achieve some success. Your new task now is to gain the knowledge that would help you develop Ukraine," said the Rector.
It is worth admitting, that this year more than two thousand freshmen became the students of Vasyl Stefanyk Precarpathian National University.
"Vasyl Stefanyk Precarpathian National University is an educational institution providing the highest level of educational services. I am sure that students of your university with a new outlook, creative thinking, and active national position are able to develop the economic and intellectual potential of the country, to preserve the heritage of generations and to build a dignified future of Ukraine," said Denys Shmyhal.
Ruslan Martsynkiv and Roman Zvarych wished everyone fruitful work in the coming academic year and asked the youth to acquire knowledge for the sake of building our country.
During the festive Academia, the first-year students proclaimed "The Oath of the Student of Vasyl Stefanyk Precarpathian National University" and performed the anthem of the university. Anastasiia Khomenko, a student of Faculty of Philology, addressed the freshmen encouraging them to be active in the university life.