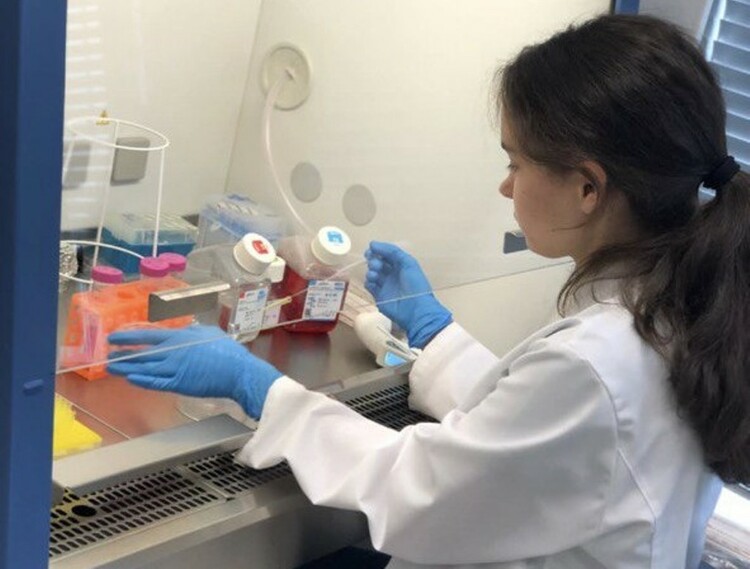 The fourth-year students from the Department of Biochemistry and Biotechnology of the Faculty of Natural Sciences (Vasyl Stefanyk Precarpathian national university) are currently undergoing scientific internship abroad. In particular, Karina Malinovska successfully works in the scientific group of Professor Alicia Hidalgo at the School of Biosciences, University of Birmingham (the United Kingdom of Great Britain and Northern Ireland). Professor Hildago's scientific group studies the plasticity of the nervous system during the development and damage restoration. In this group, our biochemistry student works on the research that will be a part of her bachelor thesis.
Natalia Nechytailo participates in the scientific research at the International Institute of Molecular Mechanisms and Machines (IMoL), Polish Academy of Sciences (Warsaw, Republic of Poland) as a part of the EMBO Solidarity with Ukraine grant program. She joined the scientific group studying the role of mitochondria in various diseases. The research carried out by Natalia Nechytailo is also actively conducted at the Department of Biochemistry and Biotechnology of our university. Therefore, on the basis of the Polish university, our young researcher will have the opportunity to improve her skills and master new methods that will be implemented at our university in the nearest future. Also, the research conducted by Natalia will become a part of her bachelor's thesis.
"I am glad that, while studying at Vasyl Stefanyk Precarpathian national university, I have the opportunity to do an internship abroad. This is an extremely necessary experience for me. Here I learn the methods of DNA cloning (Gateway cloning) and work with the SeqBuilder Pro program for analyzing DNA sequencing results. It is a great honor to work in Professor Alicia Hidalgo's team at the School of Biosciences. I am sure that the new knowledge will help me to succeed," said student Karina Malinovska.
"I currently work at the Laboratory of Metabolic Quality Control with Dr. Karolina Szczepanowska. The laboratory studies mitochondria, namely OXPHOS control mechanisms, molecular signals that make these processes possible, as well as diseases (cancer and aging), which are characterized by a violation of the process of replacement (turnover) of proteins in mitochondria. I also worked with MEFs cells to conduct experiments both on samples of whole cells and on lysates of mitochondria of certain organs. In general, mitoproteomics is a rather interesting direction of biochemical research, which in the future can become significant for the treatment of not only mitochondrial diseases, but also many types of cancer and aging," said Natalia Nechytailo.